Fresh Connection Newsletter
---
Muscadines - Nutritional Superstars

The health benefits of muscadines offer priceless value to the body. Rewards are derived from eating part of, or even better, the whole grape. Why?
Resveratrol, a potent cancer-fighting substance, is found in the skin, pulp and only a muscadine grape has it within the seed.
Muscadines are among the richest sources of antioxidants found in nature.
It's believed that the assortment of antioxidants found in muscadine grapes and seeds slow the effects of aging and possibly extend life.
Free radicals, which start chain reactions that damage cells, are terminated by the antioxidants in muscadines.
Ellagic acid and resveratrol, the main antioxidants in muscadines, play a key role in preventing heart disease and high cholesterol and assist in treating ailments like arthritis, topical burns and the flu.
Please visit www.ncmuscadinegrape.org. You can also call 919 707-3108.
Look for North Carolina muscadines at your grocery and at local farms.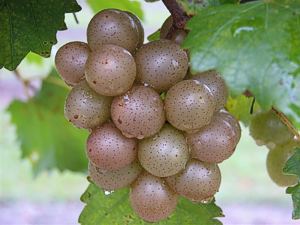 ---
Bite Into The First Apple Harvest Of The Season!
North Carolina has a reputation for producing high quality, flavorful apples and our season lasts from mid-August to December. Our traditional crops like red delicious and romes are still popular, but the new apple slice market is catching on fast too!

You already know that fresh-cut apple slices are appearing everywhere. Convenient, while maintaining that same yummy, crisp flavor, fresh-cut slices are quickly gaining the attention of healthy snackers.

Take your pick between a mix of sour varieties or a sweet selection in 3 lb. resealable bags, snack size 2 oz. bags or in individual tray packs complete with a caramel dip. Stored at the proper temperature of 32 degrees, these apple slices have a shelf life of 14 days. Purchasing NC fresh-cut apple slices puts a crisp, quality apple in the hands of your consumers quicker and with less shipping expense.

Need more info? , Visit EnjoyNCApples.com or ncfreshlink.com.
---
NC Tomatoes: A Mouthwatering Experience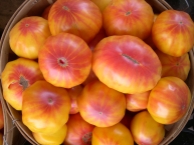 NC growers offer a wide variety of tomatoes that are available now through October, giving consumers an opportunity to reap the health benefits and enjoy the great tastes of this popular produce item.

Tomato growers statewide are planting popular varieties of plum, grape, cherry and slicing tomatoes. Grape tomatoes have definitely made an entrance into the homes of consumers. NC growers are providing more choices by adding Sweet Olive and a new Gardner variety to the popular Santa variety most commonly planted.

Plum varieties planted across the state are most often developed by nationally recognized Dr. Randy Gardner of NC State University. The Plum Crimson, a newer release by Dr. Gardner, is higher in Lycopene than other plum varieties. Tomatoes are being packed in: 6-packs, 4-packs, 3-packs, clustered tomatoes and clamshells.

Cherry tomato varieties remain a popular choice for salads and snacking. NC growers have stepped up the production of the Mountain Bell Cherry to fill the void created by a reduction in cherry tomato production in other states.

For more information on North Carolina tomatoes, visit the N.C. Tomato Growers Association web site at NCTomatoes.com or ncfreshlink.com.
---
---