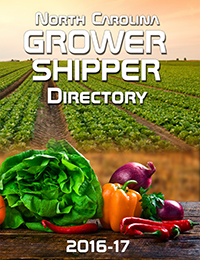 The North Carolina Fruit & Vegetable Shipper Web-Based Directory is intended for use by produce directors, category managers and buyers in the food industry. Brought to you by the North Carolina Department of Agriculture & Consumer Services Marketing Division , it is a comprehensive database of grower/shipper information.
This Directory is one component of our NC Fresh Link campaign that promotes fresh, locally grown, fruits and vegetables. Our www.ncfreshlink.com website contains this same database and is updated regularly. In addition, the NC Fresh Link monthly newsletter previews upcoming crops and new items available for buyers.
The NC Fresh Link campaign is an essential part of the state's Got to be NC - Goodness Grows in North Carolina (GGINC) program. This is the official marketing program that promotes and sells North Carolina products across the world. Over 1300 growers, processors and food companies are members.
North Carolina's favorable growing climate and soil conditions help provide a variety of top quality produce for buyers all along the East Coast. This directory is your "link" to all of them.
For additional information, contact any of the markting division offices.
---
This directory was compiled by the North Carolina Department of Agriculture and Consumer Services. The North Carolina Growers/Packers/Shippers listed are capable of filling wholesale orders. The North Carolina Department of Agriculture and Consumer Services does not guarantee the accuracy nor endorse any of the companies listed. No company was intentionally omitted. If a company should desire to be included in future editions of this directory, please contact Kevin Hardison, NCDA&CS Headquarters, Division of Marketing, at 919.707.3123.